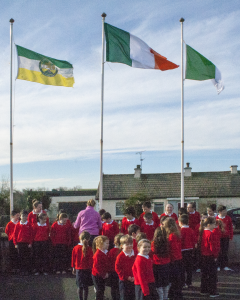 We raised our flag on Proclamation Day. Sixth Class read the 1916 Proclamation and raised our new Irish Flag. The weather was lovely and the flag flew proudly in the strong breeze.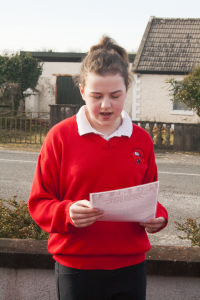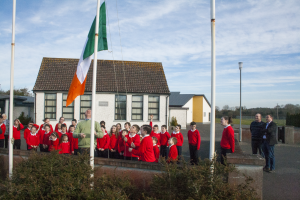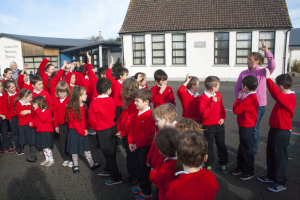 After raising the flag we sang Amhrán na bhFiann and listed the seven signatories of the 1916 Proclamation.
Back inside, Fourth, Fifth and Sixth classes read their Proclamations for a New Generation to the whole school which we recorded. You can read them here on our Proclamations for a New Generation page.
We then had a surprise visit from Seamus Egan and Mary Kilmartin, two local musicians who played a selection of Irish tunes for the whole school. We really enjoyed the music. They played jigs, reels, hornpipes, marches and some O'Carolan pieces.
Later we had a treasure hunt quiz with questions all about Ireland. There were 25 questions hidden all around the school. We were divided into teams and we then looked for the questions and did our best to answer them. The quickest team with the most correct answers were the winners.
After lunch we did some Irish dancing in the GP Room. Our favourite was the Staicín Eorna. We didn't do too badly for a first attempt.
Before going home we had a look at some more Irish dancing. We saw the original Riverdance as it was performed in 1994 at the Eurovision Song Contest in Dublin. It was amazing!
You can watch it here on the RTÉ website.