We had a great day at the CBOI Peace Proms 2018. We headed off bright and early Saturday morning and were at the The Kingfisher Hall, NUI Galway in plenty of time. It was a wet morning but the weather couldn't dampen our excitement. We met Mr. Gilligan and Mrs. Doolan and we took our seats as soon as we were allowed in. Our parents had to wait for a while because we had a rehearsal with the orchestra first.
We were sitting in the blue section behind the orchestra. Because we were one of the first groups to arrive, we were sitting in the first row of seats up at the back, so parents could spot us very easily from the audience.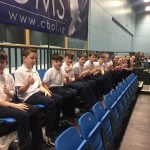 The show began shortly after 2.00 pm and Greg Beardsell, our conductor, got things going with the orchestra which sounded wonderful from the very start.
Mr. Beardsell then introduced us to the audience and following his special code word "giraffes" we all stood and got ready to sing. It was amazing hearing all those voices and the audience loved it.
The music continued for over an hour. We sang, the soloists sang, the orchestra played, the dancers danced and the violinist and pipers played for us as well. Then the orchestra had a well earned break.
After the break we had a special visitor called Roary. He was very interested in the music but seemed to be really taken by Mr. Beardsell. Good job he didn't turn around.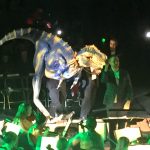 The show continued for another hour and at the end of the show we couldn't believe it was over. The time flew and we had a great time.
There will be more concerts in Dublin, Liverpool and Kilkenny this year and we don't doubt that everyone who is lucky enough to take part in those Peace Proms will have as much fun as we did in Galway.